Dear CRWDP Community,
We are pleased to announce that registration for the DWC2021 Virtual Conference is now open!
You are invited to the DWC2021 Virtual Conference that will be held over four days in early December, December 1 & 2 and December 6 & 7, from 12:15 to 3:30 EDT.
The theme for this year's conference is the "Achieving equality of opportunity and choice in careers, jobs and work", with subthemes for each day as follows:· Wednesday, December 1, 2021 – Fully including Persons with Disabilities in the COVID19 Recovery· Thursday, December 2, 2021 – Making Inclusive Workplaces a Reality· Monday, December 6, 2021 – Ensuring Secure and Comprehensive Supports for Persons with Disabilities
· Tuesday, December 7, 2021 – Moving Forward Together towards Full Inclusion in Employment
As we all know, 2021 continues to be a challenging year, with ongoing challenges for the employment of persons with disabilities. The DWC conference is focused on how to meet those challenges and continue to make progress on the implementation of the Pan-Canadian Strategy for Disability and Work.
We will be sending the preliminary agenda, as well as information on conference accessibility, soon.
To register, click here: https://reg.unityeventsolutions.com/se/DWCVC2021/ATT/. The deadline for the early bird rate is October 29th.
Registration categories and pre-tax amounts:
1. Early Bird Full Conference – $100 – Open till October 29th
2. Early Bird Non-Profit/Union – $75 – Open till October 29th
3. Student $50 – Open till December 7th
4. Regular Full Conference – $150 – open from October 30th
5. Regular Non-Profit/Union – $125 – open from October 30th
For any questions or if you require any assistance with the registration process, please don't hesitate to reach out to the DWC Planning Committee at info@DWCStrategy.ca.
N.B.: As you may know, ONIWG is a partner in this initiative.  There are a limited number of subsidies for the conference registration.  If you are interested in attending but can't afford the fees, please let us know and we will try to arrange for a subsidy (tbiwsg@gmail.com).
---
Letter to Ontario Minister of Labour Re the Preventability of Silicosis
April 25, 2021
Hon. Monte McNaughton, MPP,
Queen's Park Toronto, ON
Dear Mr. Minister:
No doubt, you are aware of the justified universal outrage at the death of George Floyd. The last words of Mr. Floyd were, "I can't breathe."
The latest numbers I have been able to get from the WSIB are as follows:
In the period 2008 – 2017, WSIB compensated 142 individuals with silicosis. An additional 117 claims were denied. A total of 315 exposures were reported in the same period. Your ministry refused to tell me how many charges, if any, have been laid against those who violated Health &Safety Regulations.

We have known for almost 2000 years how to prevent silicosis. Thanks to your government and countless others that preceded you, we still permit employers to operate with impunity. On the eve of Day of Mourning, I ask when will you commit to enforce existing rules re silicosis?
Yours truly,
Moses C Sheppard
---
---
DID YOU WORK AT THE DRYDEN WEYERHAEUSER PAPER MILL?
The Thunder Bay & Dist. Injured Workers Support Group has been in touch with CTV – W5 TV Show. They are planning to do a story on the workers who were exposed to toxic gasses while working on the construction project at the Dryden Papermill from 2002 – 2004. Many of these workers still experience effects of their exposure. If you know anyone affected or their family, please encourage them to attend on August 22nd.


CTV NEWS'S W5 WANTS TO HEAR FROM YOU
INJURED WORKER or FAMILY MEMBER of Constructions Workers

SPECIFICALLY WHILE BUILDING THE RECOVERY BOILER #4 (2002 – 2004)
COME HAVE YOUR VOICE HEARD AT A TOWN HALL EVENT MODERATED BY W5 CORRESPONDENT MOLLY THOMAS

SUNDAY AUGUST 22 AT 11 AM
Da Vinci Centre340 S. Waterloo St.Thunder Bay

---
WSIB must address systemic problems with claims for injured workers before passing surpluses to employers, labour groups argue.
Aug 11, 2021 9:32 AM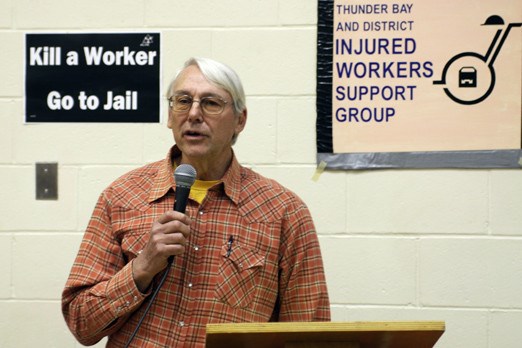 Steve Mantis, of the Thunder Bay & District Injured Workers Support Group, spoke up against plans to distribute WSIB surpluses to employers on Tuesday. (File photo)
THUNDER BAY – A plan to distribute WSIB surpluses to employers has outraged workers' groups, who say the payouts to business come on the backs of injured workers.
The provincial government is exploring legislative changes that would allow distribution of surpluses under the Workplace Safety and Insurance Board program back to employers, concluding a consultation process on the plan this week that labour groups claimed deliberately excluded them.
The plan comes after the WSIB in 2019 eliminated its unfunded liability – the gap between projected future costs and current funds. The unfunded liability rose as high as $14.2 billion in 2011.
At a virtual event Tuesday, local and provincial workers' groups argued the elimination of the unfunded liability – and the payouts to employers now being contemplated – were enabled by punitive WSIB practices that deny workers rightful benefits.
Any surplus, which the groups said could be in the billions, should instead be redirected to address longstanding concerns with the compensation system, they argued.
"There's no reason for them to not be putting the money back onto the benefits of injured workers," said Janet Paterson, president of the Ontario Network of Injured Workers Groups (ONIWG).
Employers have already seen WSIB premiums cut significantly in recent years, advocates noted.
In 2019 alone, the province cut average premium rates by nearly 30 per cent, with a total reduction of over 47 per cent since 2016, according to the WSIB.
It's a longstanding trend, with average premiums falling from $3.00 per $100 of payroll in 1996 to just $1.37 per $100 of payroll by 2020.
Meanwhile, many injured workers aren't seeing the benefits of the system, advocates said.
A 2015 study found 46 per cent of injured workers live in poverty five years after their injury, long-time advocate Steve Mantis of the Thunder Bay and District Injured Workers Support Group said Tuesday, addressing a virtual group that included MPP Judith Monteith-Farrell.
"This is what happens to injured workers," he said. "While the government is planning to give billions of dollars back to big corporations, 46 per cent of workers who really need the help, who are disabled for life, are living in poverty."
His group has long called on the province to eliminate "deeming," change policies on pre-existing conditions, and give more weight to the assessments of health care workers treating workers, rather than its own doctors.
Advocates including health workers have called for investigations of the WSIB, saying it too often ignores workers' physicians and blames pre-existing conditions in order to reduce benefits.
The practice of deeming, allowing the WSIB to conclude a worker could return to a hypothetical job, has been heavily criticized.
"Our government must pass Bill 119 which will put an end to deeming, only allowing it when an appropriate job offer is declined," the ONIWG said in its submission to the province on its surplus consultation.
The government's surplus proposal would see the WSIB distribute funds back to employers when its "sufficiency ratio" – a percentage measuring its total net assets against total net liabilities – hits a certain range.
At 115 per cent sufficiency, the WSIB would have discretion to issue surpluses; at 125 per cent sufficiency, it would be required to do so. As of March 31, the WSIB had a 118.1 per cent sufficiency ratio, the province said.
The practice is common, the government argues, saying provinces like Alberta, Manitoba, Saskatchewan, and Prince Edward Island have all passed surpluses to employers.
Still, it rankles workers who say they've struggled to find basic support after serious injury.
"I'm appalled to think overpaid CEOs will be receiving bonuses from the very people who helped get their companies where they are today, who are now left injured, sickened, and impoverished," said Ted Bowbrowski, president of the Thunder Bay and District Injured Workers Support Group.
Problems with the WSIB span decades and multiple governments, advocates said, though the Ford government drew particular scorn.
Patty Coates, president of the Ontario Federation of Labour, said Tuesday a lack of consultation on the surplus issue was simply par for the course for the government.
"In this case, I almost get why they didn't want to consult us," she said. "What's being proposed is beyond insulting to injured, ill, and fallen workers and their families… even this government might feel ashamed."
Others were even more blunt.
The consultation was announced July 15, with submissions due Tuesday. However, the ONIWG claimed the government didn't alert workers' groups.
"We can only assume that seeing as this was not brought to our attention and it was buried on their website in the employers' section, their intent for the surplus distribution is solely for employers, and we are not on your radar at all," the group stated.
---
'It's unbelievable that the WSIB (Workplace Safety and Insurance Board) would talk about dispersing the funds to employers,' says advocate. August 11, 2021
By: Marg. Bruineman
Patty Coates, president of the Ontario Federation of Labour, answers a question at a news conference on Feb. 1, 2019. Raymond Bowe/BarrieToday files Listen to this article00:02:56
Injured workers groups are calling on the provincial government to hold public consultations on proposed amendments to the Workplace Safety and Insurance Act.
The groups say they have been excluded from consultations which are now wrapping up looking at changes to the workers compensation system. At issue, they say, is a $6-billion surplus that the government plans to redistribute to employers.
Meanwhile, they added, compensation to injured workers has been cut over the years, leaving many to struggle in Ontario.
Many more, said Christine Nugent, co-ordinator of the Barrie District Injured Workers Group, are being denied coverage. In Simcoe County, she is working with about 15 people injured on the job and are fighting for coverage.
"I … spend hours on the phone helping them navigate the system," she said. "It's really dire."
Meanwhile, many others who have been injured at work, including those who contracted COVID-19 on the job, don't know that they can qualify for workers' compensation benefits, she added.
During a virtual press conference on Tuesday, injured workers' advocates called on the provincial government to address outstanding issues.
"It's really frustrating to see that injured workers were not even part of the equation, we were not asked to be part of the discussion, we were not included at all," said Janet Paterson, president of the Ontario Network of Injured Workers Group about the current consultations. "It's unbelievable that the WSIB (Workplace Safety and Insurance Board) would talk about dispersing the funds to employers."She said WSIB benefits need to be indexed to cover the full cost of living and advocates want benefits restored to 90 per cent of net earnings. They also seek better coverage of chronic mental stress injuries, restoring loss of retirement income to 10 per cent from the current five per cent and stable funding for injured workers' groups.
"The government is considering how they should pay out employers if the Workers' Compensation Board is ever in a surplus position. How dare they, when so many workers and their families continue to wait, sometimes for decades, for due compensation," added Patty Coates, president of the Ontario Federation of Labour.
Ontario has one of the lowest compensation rates in Canada, she said.
In an emailed statement, Ministry of Labour officials said the proposal does not impact the benefits or services injured workers can receive.
"We believe everyone deserves the compensation they're entitled to under the Workplace Safety and Insurance Act," reads the statement. "Our consultation on how to redistribute surplus funds comes from a recommendation of the independent WSIB Operational Review our government commissioned, which included broad consultation with worker advocates, business groups, and other stakeholders over many months."
It pointed out that the WSIB is an independent, arm's length agency with the sole responsibility to determine its own practices and procedures.
---
Additional Letters written about the WSIB Surplus:
---
---
---
"It's Really Been a Struggle"
A nice article featuring the ONIWG Regional VP Catherine Fenech.
This is the online version. Next week there will be an expanded story on the front cover of the three Peel newspapers: The Brampton Guardian, The Mississauaga News and The Caledon Entreprise.
Click through the link and see the great photo included with this story.
N,B.: The more hits the story gets, the more they will realize how important these stories are to their readers and the more likely we can get our issues covered in the future.
https://www.bramptonguardian.com/news-story/10430968–it-s-really-been-a-struggle-injured-workers-in-peel-face-additional-barriers-during-pandemic/
---
Universal Coverage
Most people think that all workplace accidents and illnesses are covered by our compensation system. Unfortunately that is not the case. In fact, Ontario has one of Canada's lowest coverage rates (77.21% in 2018 according to the latest AWCBC statistics ), with nearly 2 million workers left unprotected and vulnerable. For more information go to: https://injuredworkersonline.org/issue/universal-coverage/
---
Helpful links from Steps to Justice, Your Guide to Law in Ontario



How to apply to Ontario Works (OW): Click here for information.
How to apply to Ontario Disability Support Program (ODSP): Click here for information.
---
OCHOW's Mayday, Mayday, Mental Health Series 2021 sessions. Links to all videos
---
---
---
---
---
---
---
Ontario Injured Workers Bring Concerns to the United Nations
Media Release March 23, 2021

On March 22nd and 24th the United Nations Committee on the Rights of Persons with Disabilities (CRPD) will be holding a "General discussion on the right of persons with disabilities to work and employment", examining section 27 of the CRPD. https://www.ohchr.org/EN/HRBodies/CRPD/Pages/GeneralDiscussions.aspx

The Ontario Network of Injured Workers Groups (ONIWG) has made a submission sharing our experiences in Ontario that builds on our previous submission in 2019 that points out how the practice of "deeming" violates Canada's obligations under the UN Convention on the Rights of Persons with Disabilities.

"Workers' compensation is a critical lifeline for people who get injured on the job" says Steve Mantis, chair of ONIWG's Research Action Committee that prepared the submission. "Deeming denies people the right to income security when they are unable to get back to work because of a workplace injury."

"Deeming creates poverty for injured workers with permanent disabilities" says Janet Paterson, president of ONIWG. "The number of injured workers whose benefits are so far below the poverty line they have to turn to social assistance is shocking." In the submission, ONIWG requests:

• that the new general comment advise all governments to ensure that employment injury compensation systems adopt follow-up reporting on the employment outcomes of work injury compensation claimants with long-term work-acquired disabilities;

• requests that all governments ensure humane and dignified treatment of people with work-acquired disabilities in the employment injury benefit system;

• asks all governments to ensure protection against discrimination for people with work-acquired disabilities in the employment injury benefit system. Disabled workers should not be discriminated against for filing a claim for income security and should not have to fear termination of employment or the pressure to end their medical treatment from employers who are concerned about maintaining a low experience rating;

• requests that the new General Comment state that income security for people with work-acquired disabilities is a fundamental human right, and that income security must be sufficient so that people are able to live a dignified human life.

For further information contact: Steve Mantis at 807-767-9633
See attached document for details:
---
What a wonderful session with Moses Shepherd and Janice Martell!
---
Have your say! Consultations underway on important OHS regulations.
Workers and their reps have a chance to offer their input through a public review of three health and safety regulations in Ontario. The deadline to weigh in is fast approaching.

The public consultations led by the Ministry of Labour, Training and Skills Development (MLTSD), include proposals to amend existing pre-start health and safety reviews and another to overhaul workplace first aid programs in the province. The third is a mandatory five-year review of Ontario's working at heights training standard. Pre-start health and safety reviews These proposals follow MLTSD consultations held in spring 2020 to gather stakeholder feedback about current pre-start health and safety review (PSR) requirements and guidelines. The MLTSD is proposing to amend and streamline section 7 of the Industrial Establishments regulation (Reg 851) which requires a PSR be carried out on certain machinery, protective devices and processes before they are put into service for the first time or if modified.

Proposed changes would add to the exemptions where a PSR conducted by a professional engineer is required including: portable devices that extract smoke, fumes or other substances that do not exhaust to the outdoors; and construction, addition, installation and modification related to certain cranes, lifting devices and vehicle lifts and hoists.

The Ministry is also conducting a legally-required Regulatory Impact Analysis of these proposals to identify and assess benefits and costs associated with carrying out PSRs, including equipment, training and education, maintenance, record keeping, and other operating costs or administrative costs.

See Proposed Amendments to Pre-Start Health and Review Requirements for Factories for details.

Deadline to submit comments is March 11, 2021. Workplace First Aid training The current first aid regulation under the Workplace Safety and Insurance Act was last updated in 1983. The government proposes to transfer responsibility for workplace first aid training from the Workplace Safety and Insurance Board to MLTSD. The MLTSD would develop a new first aid regulation under the Occupational Health and Safety Act (the Act) and standards for first aid kits and related training to be approved by the Chief Prevention Officer (CPO) and enforced by MLTSD. This may involve adopting existing CSA first aid standards.

Among other considerations worker health and safety advocates would like the proposed changes to include a commitment to adult education principles in any proposed training standard, additional requirements for first aid rooms and involvement of joint health and safety committees or worker health and safety representatives throughout the first aid planning process.

See the First Aid Modernization Consultation for details and how to submit comments.

DEADLINE TO SUBMIT COMMENTS IS MARCH 11, 2021.

Working at Heights training standards review This consultation arises from a commitment by Ontario's Chief Prevention Officer (CPO) to review the Working at Heights training program standards and provider standards every five years to ensure the standards remain effective. This is the first review since the standards came into force in 2015.

Falls remain the number one cause of traumatic fatalities in the construction sector, but workers in others sectors are exposed to these hazards too without the benefit of mandatory training.

Previous research point to the current standards as indeed effective and needed.

Worker representatives are pressing for this proven standard to be maintained and improved. They are also calling for expansion of the WAH training standards to have this life-saving training apply to workers in sectors other than construction. For instance, the MLTSD found between the years 2009 and 2016 a third of all deaths related to falls from heights happened in workplaces covered by the industrial sector regulations, but not currently covered by the mandatory, working at heights training standard.

See Working at Heights Training Standards Five-Year Review for details.

DEADLINE TO SUBMIT COMMENTS IS MARCH 25, 2021.

Want to keep current on all proposed and newly approved regulatory changes in Ontario? Visit Ontario's Regulatory Registry for updates. WHSC can help! All WHSC training programs contain up-to-date regulatory requirements to ensure workers and their representatives have current knowledge to support their ongoing prevention work.

Through virtual classrooms we continue to offer training to help employers meet mandatory training and competency requirements for supervisors, joint health and safety committees and worker health and safety representatives, all of whom play essential roles in the pursuit of healthier, safer workplaces, including recommending measures to protect workers from the COVID-19 virus.
For WHSC virtual classroom training, all that is required by the participant is a high-speed internet connection and a computer with a functioning camera and audio.

Be sure to check out our complete schedule of virtual classroom training. We also continue to offer in-person Working at Heights training with strict COVID prevention protocols, including reduced participant numbers in each class.

Beyond scheduled classes, and where participant numbers warrant, we can also work with you to coordinate almost any of our training courses in a virtual classroom for all workers, workplace representatives and supervisors.

Don't see what you need? Beyond scheduled classes, and where participant numbers warrant, we can work with you to coordinate almost any of our training courses in a virtual classroom for all workers, workplace representatives and supervisors.

Additional related resources:
COVID-19-Resources

To learn more:
Contact a WHSC training services representative near you.
Email: contactus@whsc.on.ca
Call: 1-888-869-7950
Visit: www.whsc.on.ca
Follow us too on Twitter, Facebook, YouTube and LinkedIn.

A Publication of the Workers Health & Safety Centre February 18, 2021
---
Getting COVID-19 benefits while on OW or ODSP
---
HAVE YOU BEEN HURT AT WORK?
Have you been involved with the Workplace Safety Insurance Board (WSIB; Workers' Compensation)?
Your experiences could help us improve services for Thunder Bay and District injured and ill workers involved in the WISB claims process.
Participants will receive compensation for their time.
To enroll or for more information, please contact:
---
CBC N.L. · Posted: Nov 22, 2020:
"A BUREAUCRATIC SYSTEM FORGOT I WAS THE HUMAN BEING ON THE OTHER SIDE. I WANT CHANGE"
---
Re: Rental Arrears due to COVID19
If you are aware of any tenant that is in arrears due to the negative effects of COVID-19, the TBDSSAB has secured funding to assist people in paying rental arrears. The TBDSSAB is asking you to partner with us in order to reach as many people as possible.
We are asking you to assist your clients (OW, ODSP and Non Social Assistance Recipients) in filling out the attached application form and submit with required verification (listed in the form), along with a letter of support with your recommendations on why the financial need exists.
This fund is subject to income limits and the accommodations must be deemed sustainable by TBDSSAB staff. Note that this fund is not subject to appeal and all decisions are final.
Application packages can be sent to Samantha Vance (via fax at 345-7921 or by email Samantha.Vance@tbbdssab.ca)
They can also be dropped off or mailed to the TBDSSAB Office at 231 S. May Street Thunder Bay, ON P7E 1B5 or at any TBDSSAB Satellite Office or any of the TBDSSAB Satellite Offices. Rental-arrears-fund-applicationDownload
---
NOVEMBER 16, 2020 PRESS RELEASE
Subject: Canadian Pain Task Force releases its second report / Le Groupe de travail canadien sur la doulear publie son deuxième rapport
The Canadian Pain Task Force is pleased to announce the release of its second report – "Working Together to Better Understand, Prevent, and Manage Chronic Pain: What We Heard".
Over the last year, we conducted an extensive series of in-person, written, and online consultations about the gaps and challenges, best and promising practices, and elements of an improved approach to preventing and managing chronic pain. Our deepest appreciation and gratitude go to all who shared their thoughts and ideas during our consultations.
The report reflects the evidence, ideas, experiences, and practices that we heard from the nearly two-thousand people who participated across Canada. The Task Force hopes that by coming together, we can forge a path forward to better prevent and manage chronic pain in Canada.
Throughout the next and final phase of our mandate, we will continue to increase awareness of chronic pain and to build relationships and networks for change across the country. This work includes collaborating with key stakeholders, such as people who live with pain, decision-makers in federal, provincial and territorial governments, health professionals, researchers, Veterans, and Indigenous Peoples, to disseminate information related to best practices for the prevention and management of chronic pain and to move ideas into action.
We look forward to continued collaboration.
Sincerely,
Maria Hudspith and Fiona Campbell, Co-Chairs
On behalf of the Canadian Pain Task Force
---
Ontario Network of Injured Workers' Groups' new speakers series
The series has been launched to celebrate the three year anniversary of ONIWG's historic "Workers' Comp Is A Right". It will will focus on a different workers' comp issue every month, and will feature presentations from injured workers, allies, advocates, and experts.
In case you missed the October 8 event, here is a fun video that came out of this first session.
Have you signed the Ontario Network of Injured Workers' Groups' petition to demand that injured workers are involved in the hiring process for WSIB's next president? We need your help. Sign and share at: change.org/WSIBPresident.
---

New support for our Tuesday morning legal education and support group!
The Thunder Bay & District Injured Workers Support Group (TB&DIWSG) is pleased to announce their partnership with the United Steelworkers Family and Community Education Fund (FCEF) in coordination with Northwestern Ontario Steelworkers Area Council with the sponsorship of our weekly legal education and support group sessions online until December 1st.
---
Articles to Check Out
Take advantage of every opportunity to speak truth to power. Tap Tap Oh look Opportunity's knocking https://injuredworkersonline.org/how-to-reduce-poverty
---